It works perfectly on windows, but I still miss the auto connect to server feature on Android!
Thanks for testing,
The Android link points to a new version, it should now work with your headset.
Noted, some automation would be great!
Perfect, thank you! Works now!

Do you have a donation link?
And for output and mic it would be cool to have gain control, as the mic is a little bit too loud on my system and output on my headset a little bit to quiet.
Perfect, thanks you!! you helped me a lot!!!
Fantastic job Bro! I have been dreaming of such a solution.
Now I can get my AirPods Pro work with Android and Windows at the same time (I am just not a big fan of Apple environment in general

).
Unfortunately, I cannot make that work in both directions (mic to PC and audio from PC) - is it working in paid version?
I somehow cannot purchase it in this version of app - would it work if I purchase paid plan in 0.12 version?
+BTW - several important features seem to be still missing in PC app - like "Move to tray" option. After closing of the window, the SW stops working
Besides those - very useful redesign. I would happily move to this version and purchase full version whenever it would be available. Nice work!
It should work even without the paid version.
When you try both directions, does it stop working in both of them? Or one of them still work?
Does it work without your AirPods? (Simply using the built-in mic and speakers)
Thx for answer!
I am right after supplementary testing.
And… Indeed! - it works without any headphones. When you use BT for recording audio, then you immediately loose the feed that you are listening to (happens on both Air Pods Pro and Jabra Elite 75t). No idea why. So I changed to phone mic.
Unfortunately - even though it works in such a setup, the choice of playback devices [pic. 1] (I guess it is called "audio sink" in mic case) here is the same as for audio feed from PC [pic. 2]. So I end up hearing my own voice instead of feeding it to "Cable Output" to later use it in any voice call applications [pic. 3]. Is anyone experiencing the same?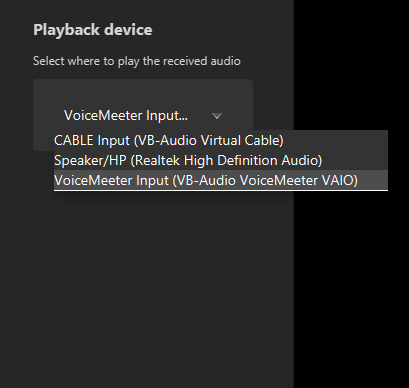 pic. 1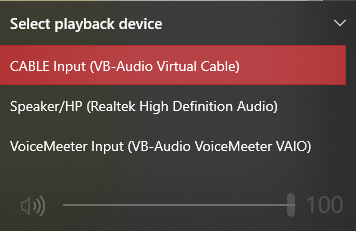 pic. 2



pic. 3
Yooo!! This App Is Amazing i tried all the feature: streaming mic to my PC, or streaming audio between PC and mobile!! It worked all perfectly fine!! Good Job! I streamed YouTube, Twitch, Twitter and Discord audio to my PC !! I have only 1 question, when Will Be releases this versione to the Google Play Storie? Because i really wanna supporto this Amazing app





Since you already have Cable and VoiceMeeter installed, you could use both in AudioRelay in order to separate your mic and your PC sound.
Select VoiceMeeter input as a playback device in Windows and as an audio source in AudioRelay (server tab)
Select Cable output in Skype and Cable input as playback device in AudioRelay (player tab)
I've got the premium android app, I'm unable to select the sound source for input - I want to use a connected bluetooth device as my mic but It's using the phone mic…
Also I can't select more than one audio device on the windows app so no sure how I get mic and audio working at the same time…
ALSO, I tried selecting an input device in audiorelay but it didn't send input from my phone mic to my PC at all

Ok, I've tested these new mic functionalities and found this:
What am I using for the tests:
→ All of the tests was made on a Android Samsung S20+ device with Android 11 and One UI 3.1.
→ All of the tests was made on a Windows 10 Pro, OS Build 19042.1165, Version 20H2.
→ All of the tests was made using Telegram Desktop 2.9.4 Beta.
→ All of the tests has "player" and "server" running simultaneously.
→ I'm using my monitor as the computer audio source, "cable input" as playback device for the mic, the "cable output" are set as "input device" on "Settings > Advanced > System integration > Call Settings > Microphone", the other telegram call settings are at the default option.
My tests:
Without Bluetooth Mic and with Bluetooth Headset:
Mic Default mode and Alternate mode is practically the same.

Voice Communication mode and Voice Performance mode turns the volume very low and practically imposible for the other people to listen you.
With Bluetooth Mic and with Bluetooth Headset:
Same as without bluetooth mic on the mic options.

The audio of the computer streamed turns lower than without the bluetooth mic.
With Bluetooth Mic and cellphone on Speakerphone:
If you activate the bluetooth mic and your cellphone are on speakerphone (microphone mode on default (probably on the other options will behave the same)). The expected behavior (at least i think) is you changing for the bluetooth mic but not the audio. If so, the problem is that the audio are being changed too, in a way that your cellphone could not detect (at least on Samsung S20+ the "SmartThings" app for change between bluetooth audio and speakerphone the option disappears when you use in this way).
Without Bluetooth Mic and cellphone on Speakerphone:
Default and Alternate mode's with unbearable interference in audio.

Voice communication and Voice performance mode's didn't had the interference but the other person could listen herself faintly behind and the audio from the mic are still low overall.
Conclusion
I think we still has some things to improve in this new feature, especially the audio reduction when you are on bluetooth mic and the noisily audio interference.
I did not put the "Camcorder" in the tests cuz I didn't understand how to use it in the AudioRelay apps.
I did not test on other apps but probably it will behave the same way.
P.S.: English is not my native language so if you find any misspell or unreadable phrase please tell me and I'll edit and rewrite.
Hmm, when you have a connected Bluetooth device, a Bluetooth icon should automatically appear in the server tab. I guess it works OK in other apps?
You select a speaker/headphone in the server tab
And select a virtual audio device (e.g: VB-Cable) in the player tab
So, is the end result is that the mic works but you can't hear anything?
You can hear and the mic works, but you loose the native option for change the device you're using to hear. So if I want to change between bluetooth devices or put the audio on the smartphone I wouldn't be able (without change options inside AudioRelay).
Just using the old version - missed the bit where it's not released yet!
Yes I get the icon - the issue, possibly with android? Is that when I select this bluetooth device as the mic, it starts playing output audio over it too and I lose audio on my headset (connected to phone over usb).
So I'm unable to select one bluetooth audio device for input without my phone sending all audio output to that device.
But otherwise using a single audio device on the phone works well! I'm using a oneplus 8 pro.
Some other things I noticed:
Looks like the minimize to try setting is gone in the new windows version
on the windows app, the vertical scroll speed depends on the amount of scrollable content in a weird way - i.e. if there is a tiny bit off the viewport, it takes ages to scroll down, but it scrolls faster if there is a lot more off the viewport. It should be a fixed distance of scrolling per mousewheel tick/scrollbar press. I guess you're using some nonstandard stuff here minor though
Windows app crashed on start up after a reinstall.
I would see the ui the loading icon in the right would be frozen entire app looked frozen and then it would just kill itself

Hope you got some value crash reports, would love to test the features.
There's a new version:
The minimize option is back
What do you think of the scrolling now? It seems OK
I haven't looked at the audio device situation yet
Do you have an example setup where you can change the output device while using a Bluetooth headset as a mic?
By setup, I mean another app or a combination of other apps where you use a Bluetooth headset as a mic and manage to output audio on the phone speakers, a wired headset or another Bluetooth device.
Unless I'm missing something, if you use a Bluetooth headset as a communication device, you can't route the output elsewhere, it has to go to that device. Please let me know if that's wrong.