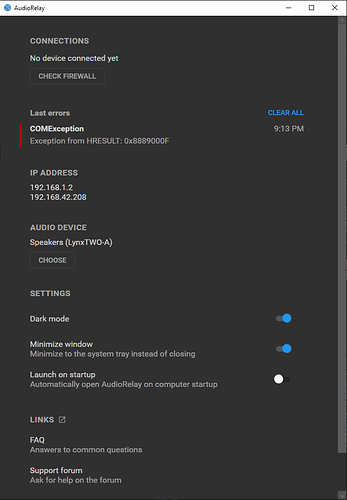 Hello guys,
i just purchased the app, I'm trying to support as much as I can

So… i have a few issues.
First of all, I got it in order to connect it with my cubase music production setup having in mind that I could use my tablet as an extra monitor for my mixes (a tablet sound check for any mix is a very useful thing to have!!!)
Although it connects great with the on-board sound card, it does not output any sound when i select my music production card, which is a LynxTwo within cubase (…Asio Drivers…).
But it outputs sound (: LynxTWO) within Chrome and Youtube when I set my Pro sound card to system default. … So I suppose that the problem here is the Asio Drivers??? It outputs from the system, but does not output via Cubase which uses the same card but with Asio drivers.
Second issue is that the tablet cannot connect to the usb tethered IP address. I've done your firewall suggestions of course. The IP is visible and active, but the tablet deny to connect.
that's all folks, any suggestions?
best regards